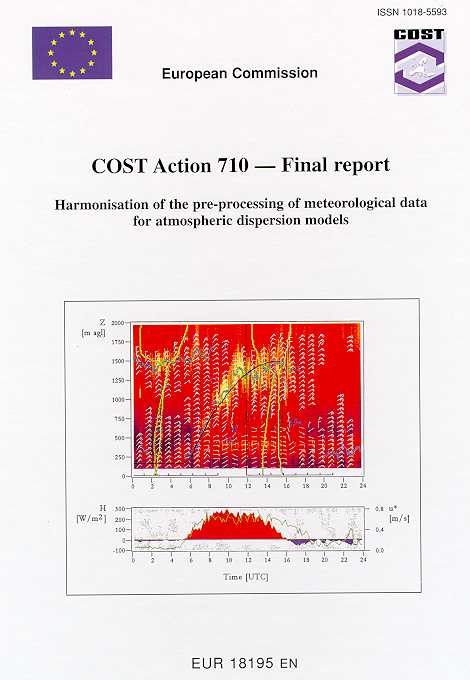 COST 710 final report
The bibliographic information for the final report of COST 710 is as follows:
EUR 18195 - COST Action 710 - Final report. Harmonisation of the pre-processing of meteorological data for atmospheric dispersion models.
Edited by B.E.A. Fisher, J.J. Erbrink, S. Finardi, P. Jeannet, S. Joffre, M.G. Morselli, U. Pechinger, P. Seibert and D.J. Thomson.
Luxembourg: Office for Official Publications of the European Communities
1998 - 431pp. - 16.8 x 23.5 cm.
ISBN 92-828-3302-X
The report out of print.

---
Contents of the report
The report (431 pages) consists of a preface and five parts. The major part of this material is available electronically by clicking the links below. The text is either in plain HTML format or in PDF format (requires the free Acrobat Reader).
---
---
This page is maintained by Helge RÝrdam Olesen
It was last modified on May 11, 2011
Published by the Department of Atmospheric Environment, National Environmental Research Institute (Denmark)