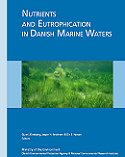 This website is based on a book.

Most data in this assessment report are available through the MADS database.
In Danish marine waters eutrophication can to a large extent be attributed to excess nutrients flowing from upstream watersheds into coastal waters.

This assessment report describes and documents the effects and degree of nutrient enrichment and eutrophication status by adressing the questions:

Technical and scientific assessment of the eutrophication status and ecological quality objectives.
Existing national strategies and measures implemented to abate nutrient enrichment and eutrophication.

The overall eutrophication status of the Danish marine waters and possible future actions.